"Too far gone"
Too far gone isn't a thing for Jesus. He can bring his love to you in the most surprising of places. It's an honor to be his hands and feet and make sure marginalized communities are served just as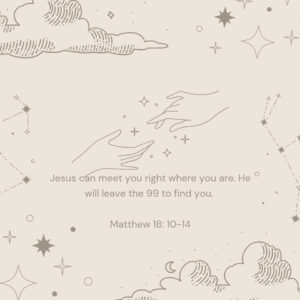 well as the ones who are socially "acceptable".
Jesus ate with sinners and tax collectors, and extended grace, acceptance and love to "sinful women" such a Mary Magdalene, the woman at the well, or the woman in John chapter 8. We are so privileged to get to be the Jesus they get to see.
Jesus can meet you right where you are.. He will leave the 99 to find you.
See that you do not despise one of these little ones. For I tell you that their angels in heaven always see the face of my Father in heaven. "What do you think? If a man owns a hundred sheep, and one of them wanders away, will he not leave the ninety-nine on the hills and go to look for the one that wandered off?  And if he finds it, truly I tell you, he is happier about that one sheep than about the ninety-nine that did not wander off.  In the same way your Father in heaven is not willing that any of these little ones should perish. -Matthew 18: 10-14